This is what I love doing..
When my sister called me to tell me she and her husband were expecting their first baby, she right away asked me if I could design her baby's birth announcement. I was so over the moon with the news, that I said 'yes' to her design request. I was honored to be asked, also a little anxious. Designing for family and friends is always a little tricky. It turned out that my sister and I did great on this collaboration; it went smooth all the way! Yey, I became a proud aunt of Vyenne Indy! And to celebrate her third birthday, I registered her an internet domain and designed the homepage of her own website. These days all toddlers need their own website!
Most of the time, as you become 'an item' you are first in love (pink). Later on, you start to love each other (red). This happend to my friends Karianne and Richard and they decided to get married. They asked me to design their wedding invitation.
After studying their names (and Dutch meanings), I started with her last name and by changing two letters it becomes 'Lagendeel' which means 'lower parts' (within a year after they met my friends were expecting). After again changing two letters, you get 'Lagerveel' which means 'Lower a lot' (Karianne was taller then Richard, a bit of an issue). By changing one letter, you get 'Laterveel', which means 'Later a lot'. When you marry you wish you have a lot of things in your future together.. And it ends with 'Laterveer', his last name in red. I am happy to let you know these friends of mine still love each other a lot!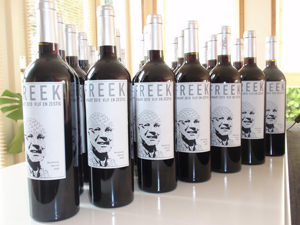 At the end of the birthday party, every guest got to take a bottle of wine with a personalized label. This bottle was intended to be enjoyed the next time they would meet with the Birthday 'boy'.